What are the outcomes when more than 800 optometrists from the Nordics and the Netherlands answer a professional quiz of 15 cases? Is the level of competence within clinical judgement and decision-making different between the nations?
That is what Specsavers Northern Europe wanted to find the answer to. As part of individual e-based learning for optometrists in the region, more than 855 optometrists from various chains and independent workplaces in Norway, Sweden, Denmark, Finland and the Netherlands participated in a multiple-choice quiz.
Historically speaking, there has been close contact in the optometry profession in the Nordic and partly also in the Netherlands. A small group of key organisational stakeholders have had contact across borders and worked together to shape the profession. Among these stakeholders are the chains that are represented in several of these countries.
Despite working closely with the optometry field, there are differences in education and legislation that define when and what optometrists can or cannot do in these different countries. Examples are when the profession got recognised by the government as a protected health profession, when BSc and MSc level became available, which clinical decisions we can take independent of general practitioners/ophthalmologists, the right and accept to refer patients onto general practitioners/eye doctors, and the use of diagnostic medications.
If we look at the commercial side of the profession there are also big differences. It is well-known that there is a strong culture for charging for clinical services in Norway while other markets have a likewise long tradition of discounting the clinical offer or even giving it away for free. We then need to ask ourselves if this has any relevance to how optometry as a profession develops in a country or if the topic 'economy and charging policy' is irrelevant when it comes to the professional level. It's not the intention to answer these questions in this article. However, raising the question for reflection can be valuable as the link between professional level and charging policy is sometimes brought up for discussion within the industry, including various social media groups.
Quiz developed in Denmark
A quiz consisting of 15 clinical cases was published in Specsavers online community from May 2019 to September 2020. The cases were developed by the Danish ophthalmologist, Danson Muttuvelu, with whom Specsavers has worked together for many years. This relationship became even closer when Louis Nielsen/Specsavers launched an internal Second Opinion System (SOS) where optometrists could send in their cases electronically and receive advice about whether to refer or not refer a patient. In 2019, about 10,000 cases were submitted and evaluated by ophthalmologists. Because of that, we knew that Muttuvelu had to have good insight into what the Danish optometrist's clinical competence level looked like. The cases were then evaluated by professionals in the 5 countries to see if the cases were relevant also for optometrists outside of Denmark.
The quiz aimed to make any individual optometrist in Northern Europe able to check their clinical skill level within eye health. Eventually, we found out that publishing data from a big group of experienced optometrists would be valuable to share.
Specsavers thinks of this as interesting data to share in the countries we are present in. As colleagues within the same health profession, we are ethical obliged to share experiences and data that can contribute to higher clinical quality.
Method
At the time we launched the quiz, there were about 2,000 optometrists registered as users of the online service. The split between internal/external optometrists were about 50/50. In total, 855 answered the quiz. In this presentation, we have removed 176 replies from optometrists in other countries than Norway, Sweden, Denmark, Finland and Netherlands. Additional response from 1 optometrist was also removed as the respondent ticked off most of the available multiple-choice answers indicating a "safe bet" approach. The analyse below is based on the responses from 669 optometrists.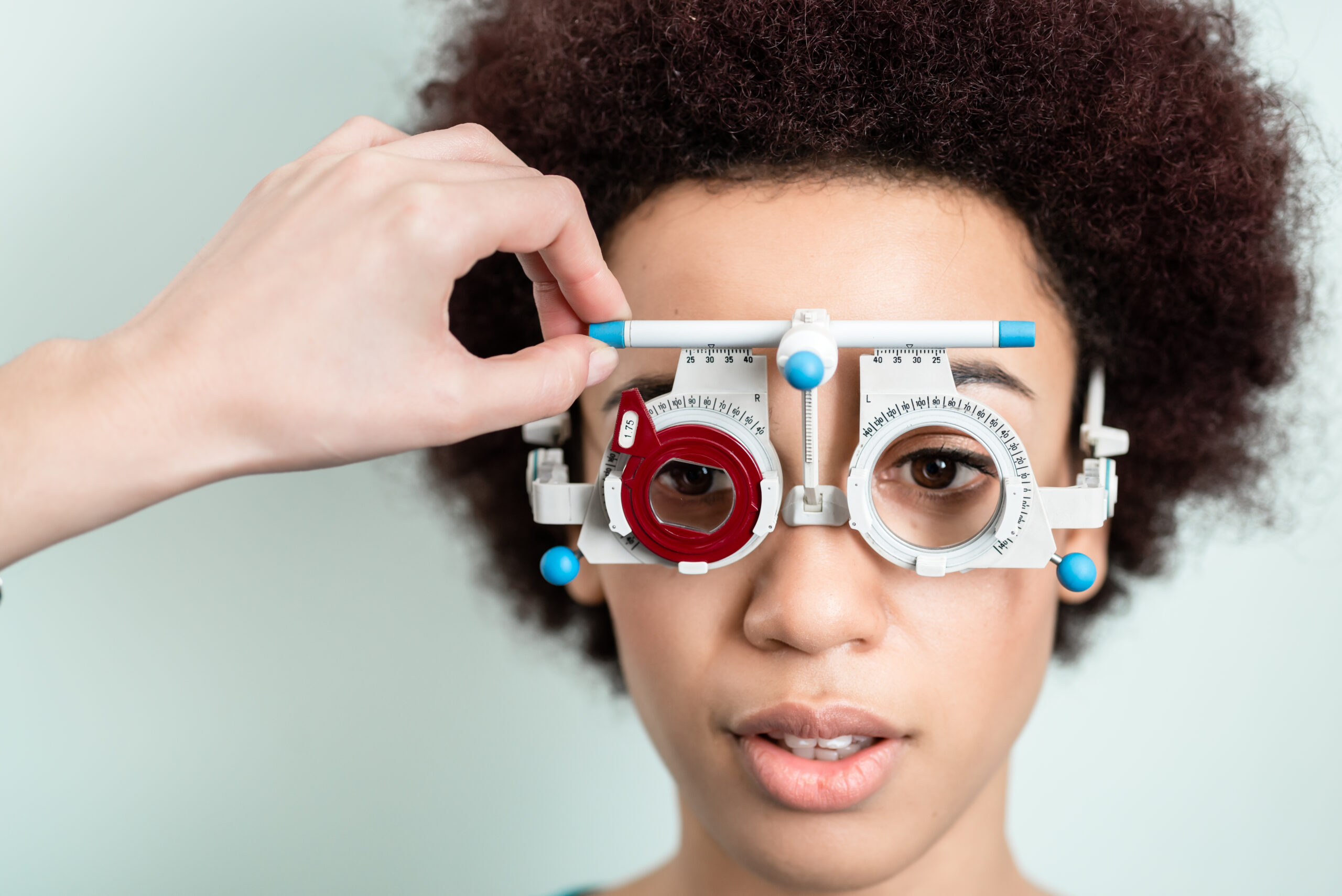 All participants were asked to about:
Which country do you work in?
Age
Number of years' experience as an optometrist
Internal/external employee
The 15 cases were divided into the following themes:
Keratoconus
Blepharitis
Binocular vision
Accommodation
Intraocular lenses
Dry AMD
Epiretinal membrane
Choroidea
Vein occlusion
Need for dilated exam
Shunt vessel
Glaucoma
Papillary oedema
Entropion
Dry eyes
For each case, there were 4-6 multiple choice options where several of them could be correct. This resulted in 72 different answers. A correct answer scored +2 points, whereas an incorrect answer gave -1 point and no answer gave 0 points. The maximum score was 144 points.
You can access the quiz at the bottom of this article.
Results
Figure 1 shows how the answers from all 669 participants are divided. The average score is 81 out of 144 possible points.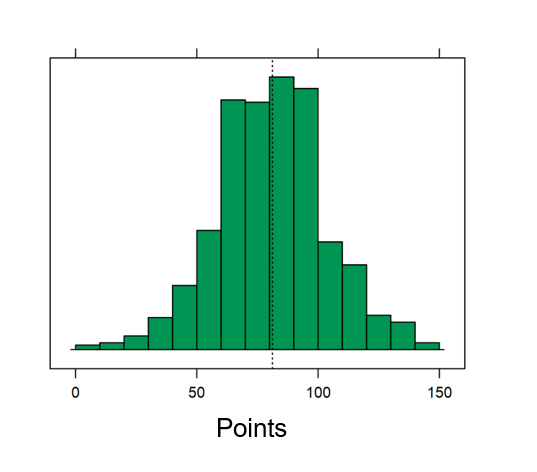 If we group the answers by country (figure 2), we find score levels to be uniform between all the Nordic countries and the Netherlands. The difference between the maximum and minimum scores equals only to 6 answers among the 72 possible ones. Considering that every case had 4-6 multiple choice, we concluded that the differences between countries are small.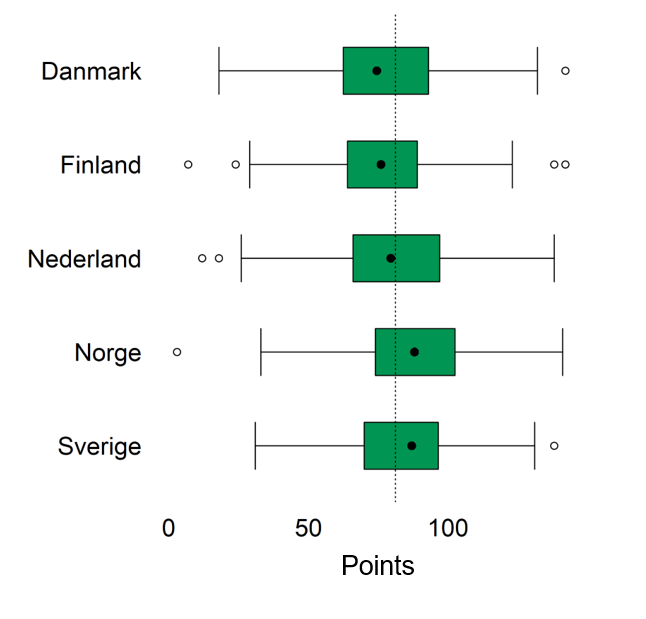 The analysis also shows small differences between optometrists with different length of experience (figure 3). Optometrists with 10-14 years' experience have a slightly higher score than optometrists with less than 5 years' experience. This is as expected and shows that experience counts. Looking at the score, the differences are small also for this one. Optometrists with 10-14 years' experience scored on average 8 points higher than those with less than 5 years' experience. This is equivalent to 4 correct answers. As a result, we can conclude that young optometrists are good!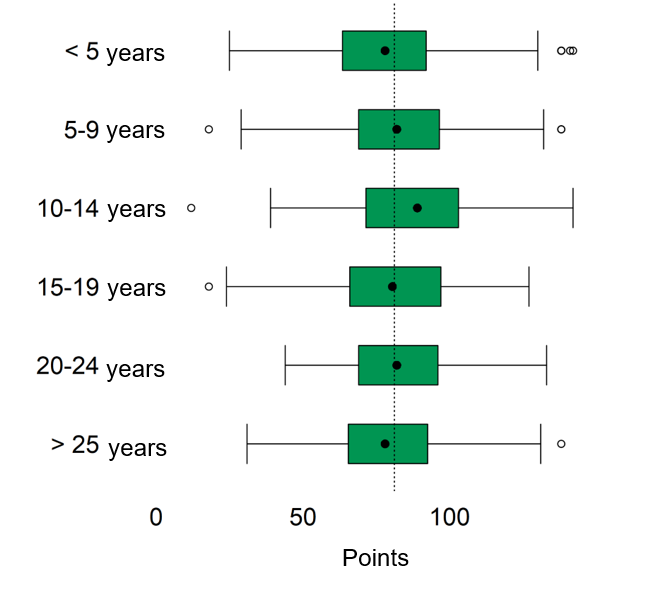 We have also investigated which clinical topics that had the most correct answers and which ones had the least correct answers. This is an interesting discovery as it says something about which topics optometrists are good at and which they are less good at. The data we collected on this is extensive and will not be shared in detail in this article. Readers who want to get access to this data are more than welcome to reach out for more details.
In summary, we see that the cases about binocular vision, anterior segment, AMD and glaucoma score high, while vein occlusion and the case about "shunt vessels" have most incorrect answers. This is not surprising as this is advanced pathology that optometrists are rarely exposed to. Such cases belong to the ophthalmologists' work area. It is, however, worth mentioning that even if the quiz did not recognise it as a correct answer, it is not the same as to whether the optometrist who answered would refrain from referring these cases further. Looking at the fundus image from the case with the most incorrect case, I would assume that most optometrists would refer this finding to an ophthalmologist, and thereby take responsibility, anyway.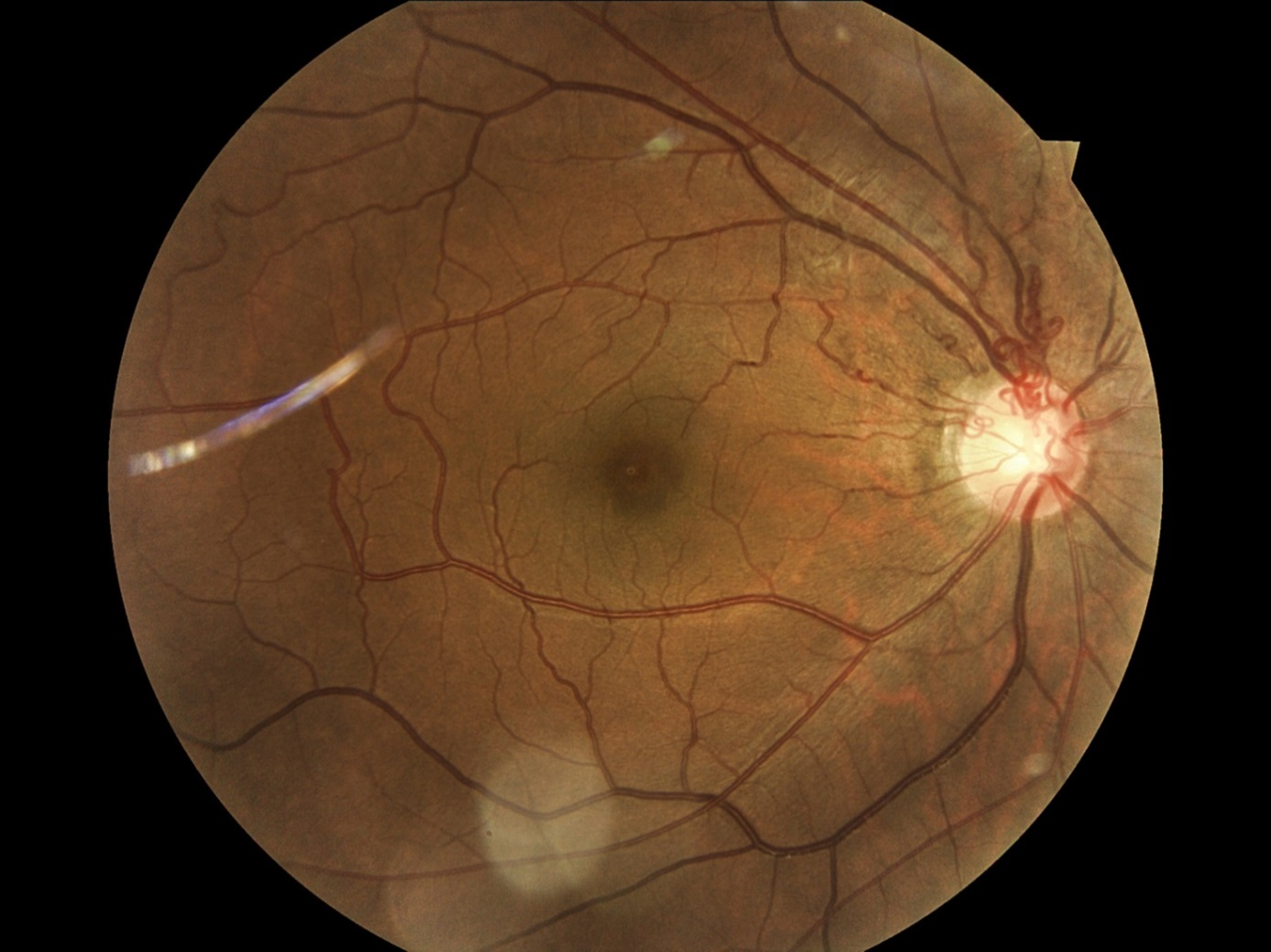 Conclusion and discusion
We conclude that the professional level of optometrists' practical competence within eye health in Norway, Sweden, Denmark, Finland and Netherland is high. Feedback on 15 cases is not enough to claim a complete mapping on competence. Given the high numbers of attendees – 669 optometrists – we still think the results give a good indication.
We also find a relatively small difference between the levels of the newly qualified/educated and the experienced ones. This can indicate that the quality of education is high when it comes to recognising eye conditions and, in this way, balance the lack of experience during the first 5 years of practising.
The outcomes indicate that the difference between optometrists, despite differences in years of experience, the differences in geography is by far greater than the differences between those groups when it comes to evaluating eye health.
The article was published 21 December in Optikeren.no
Big thanks to Jon Gjelle, who has contributed to data collection and statistical analyses.
The author, Svein Tindlund, is Optometry Director of Northern Europe Specsavers.
E-mail: svein.t*******@**ecsavers.com